The second series of our microwaveable products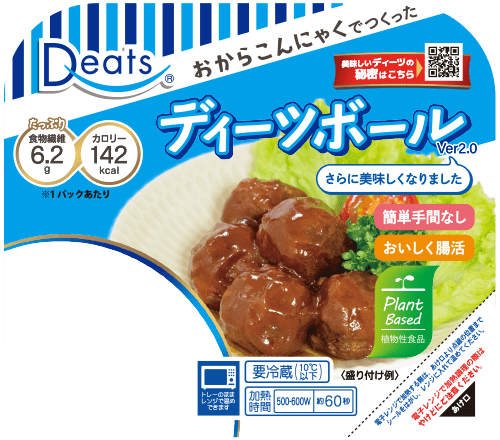 With a special demi-glace sauce
Children will love it!
Deats Ball Ver 2.0
eproduce plump and soft meatballs with okara konjac.
New and improved flavor, thanks to customer feedback.
Even cold, it's delicious and perfect as a side dish for lunch.
A dish full of dietary fiber and happy for the intestinal tract.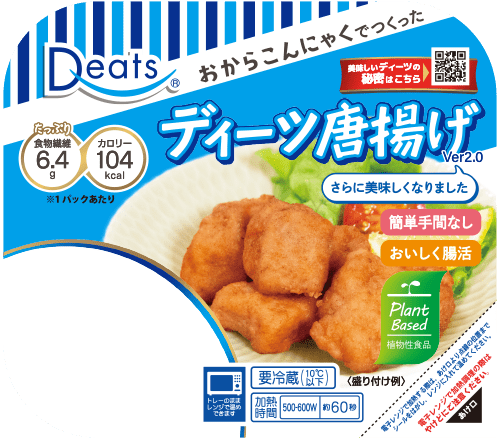 Satisfaction with Improved Umami
(Savory Flavors)
Deats Fried Karaage Ver 2.0
"Meat" made with okara and konjac for fried chicken that is satisfying to eat.
New and improved flavor, thanks to customer feedback.
It has a little spicy seasoning and can be used for lunch boxes and snacks ◎
A dish full of dietary fiber and happy for the intestinal tract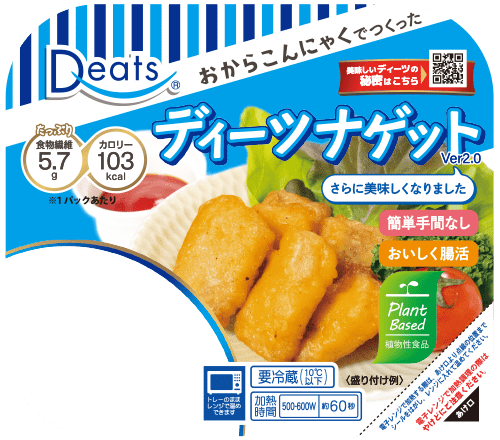 Chicken nugget-like soft texture
Deats Nugget Ver 2.0
Reproduce "chicken nuggets" with okara-konjac
It's white and has a gentle seasoning as a base, so you can enjoy it with your favorite sauce(s)!
If you gently warm it with a toaster after microwaving, it will be crispy and delicious.
A dish full of dietary fiber and happy for the intestinal tract